Making a radio program?
An ideal project for my mixed-ability Year 9 Music class; creating and producing a radio program is an open-ended task that combines ICT skills, creativity, media and music.
You beauty!
What they had to do…
The brief was to create a radio program with the following features:
A station ident
Top 'n' tailed songs
Song introductions
An advertisement
A phone in
A competition
The software they used
We're using Magix Music Maker Basic Edition, a freely downloadable entry level DAW. Although it's limited in so many ways the interface is so straight forward and accessible that our Junior School students have no difficulty with creating basic sound mixes. You can access your disk files through a browser screen but if you set up folders of files inside the software's My Audio Video / Soundpool directory students can drag and drop from the Soundpool's window straight onto the main screen.
Music Maker has 8 tracks to play with and audio loops can be dragged directly from the SoundPool and manipulated with mouse clicks and drags. Monitoring and playback is quick and lag free (we're on Windows 7 but we ran the same software on Windows XP). A double-click on a loop activates a realistic set of reverb, echo, pitch shifting and equalisers units. Recording is a little convoluted – you actually press a red record button three times, but the results are quite acceptable.
The Media files they used
SONGS: Students mostly supplied their own songs and we top 'n' tailed them (keeping just the first and last twenty seconds). This was to keep the program short and keep the songs to the same length as the 'samples' offered on sites such as iTunes.
JINGLES: Some students wanted to make their own. Some recorded directly into Music Maker, some recorded on their phones / iPods. Other – more shy – students preferred to use the pre-recorded jingles available on a number of web sites (see resource list).
INCIDENTAL SOUNDS; The music room has a range of sound FX CDs. Other sources included ipod soundboards.
ADVERTISING: Again, students either made their own (very amusing) or used ones I loaded onto the PCS from websites.
What they did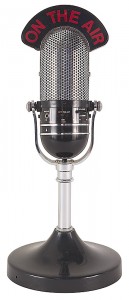 We introduced elements lesson by lesson. We started by listening to different radio stations live (not always easy in our neck of the rural woods) or pre-recorded from iPad apps. Students completed listening diaries and we discussed the features they heard. Work groups were formed and themes (eras / genres / bands) for the programs were decided on. The students then chose five songs, top 'n' tailed them and added them to Music Maker.
We listened to station idents then created our own versions in Music Maker. Groups recorded their own voice-overs or added the pre-recorded ones.
A number of websites have downloadable mp3s of award winning commercials and we listened to a number of these (very amusing UK examples!). We discussed the advertisement format: grab the listeners' attention, present the pitch and make a call to action. (More in the resource list)
Last up groups had free choice on adding a phone in, a competition or radio quiz. The Music Maker effects section can easily make low-fi versions of recordings; ideal for simulating a phone caller.
How it all ended up
Nearly all groups completed the project. Some groups used pre-recorded samples exclusively, others added lots of their own recordings. Many programs were professional sounding, with voiceovers riding song intros and amusing and clever adverts. Interest and application remained high through the unit with some groups asking to take their shows 'on the road' and broadcast live at lunch times.
And for next time?
More could have been made of the genre / band aspect and research possibilities present themselves to make more informed intros.
More examples of commercial radio station programs would be useful for students to learn from.
A visit to the local (just 100km round trip!) FM station.
---
Resources
Programs
Websites
Apps
Tags:
lesson ideas
,
radio
,
software